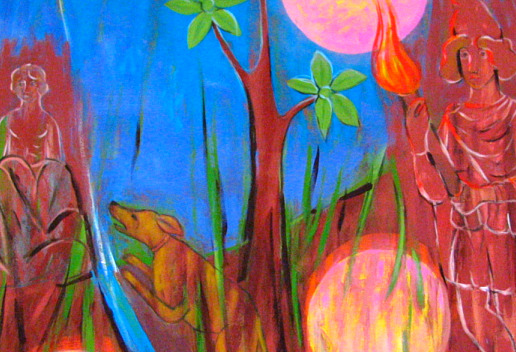 This image is a partial view of the painting. The full view is on the page Overview, and for a bigger format of the picture you can follow this link:
The Suncircle. The torches held up and down by Cautes and Cautopates marking the revolvement of earth and sky.
For her exhibition e.g. Mithras, Part II, Farangis tries to separate the cult figure Mithras from the Roman view by means of a different way of explication. Nevertheless, she uses the imagery of the Roman antique, especially the sacramental images which depict Mithras slaying the bull, and begins her sequence of works with the figures of Cautes and Cautopates who assist Mithras.
A wide sky and circling suns, as symbols of the visual daily progression of the sun, emphasize the rhythm of light. Holding one torch upwards and one torch downwards, the torch bearers Cautes and Cautopates indicate the direction of the light, and at the same time they allude to the coming-into-life and light, and to the cessation-of-life and darkness.
Farangis tries to bring across that a cosmical order does not leave anything disappear into an eternal darkness nor does the life-creating brightness incessantly rule our lives.
Farangis connects in this picture, which is primarily dedicated to Cautes and Cautopates, further images that we are familiar with from the Roman Mithras mystery, like for example the raven, the serpent, the dog, the scorpion, and also young Mithras as born from the rock. Very consciously the slaying scene is not shown here, thus no fraction of death is being depicted. An anthem for light and life in a bright colorfulness seeks to touch the viewer.


Werkzyklus
See the first part of the Mithras Werkzyklus Zum Beispiel Mithras, Part I, on: mithras.farangis.de.
On Mithraism
The Persian deity Mithras. Click here to read about the historical initials of Mithraism.
Large view of the paintings