An exhibit at the Saalburg museum that combined archaeological findings with arts by Farangis G. Yegane
…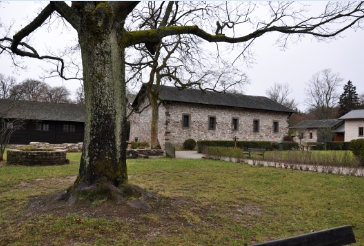 The Mithras Mystery
"Mysterium Mithras – ein antiker Geheimkult im Spiegel von Archäologie und Kunst". An exhibit at the Roman fort Saalburg that combined archaeology with arts by Farangis G. Yegane. The exhibit was on from 27. August 2011 til the 22. January 2012. You may want to read more about the exhibition, starting from here.
The picture on the left shows a partial view of a part of the inner yard in the Saalburg.
With this site we want to document the exhibition by Farangis G. Yegane at the Saalburg. You can find an overview over the two series of works by Farangis that were displayed at the exhibition at these URLs:
– https://farangis.de/mithras/ FOR EXAMPLE MITHRAS PART I
– https://farangis.de/two/mithras/ FOR EXAMPLE MITHRAS PART II
Previous exhibits by Farangis G. Yegane evolving around the theme MITHRAS have been held at:
– https://farangis.de/two/mithras/dieburg/ (2010) – the Museum Schloss Fechenbach in Dieburg Germany. This museum hosts one of the most notable mithraic reliefs. A previous exhibit with part I had taken place in Dieburg in the 1990ies, before the museum's renovation.
–  For Example Mithras I by Farangis Yegane at the Karmeliterkloster (1994) – Frankfurt am Main, in cooperation with the archaeological museum Frankfurt and Dr. Ingeborg Huld-Zetsche.
Who supported this arts project at the Saalburg?
The curator of the archaeological side of the exhibit was Dr. Andreas Hensen of the Institut für Alte Geschichte der Universität Heidelberg. The contemporary arts side was curated by the artist herself, Farangis G. Yegane, by Karin Zuleger from the Museum Schloss Fechenbach in Dieburg, and by Gita Yegane Arani. The concept was put into practice by Dr. Carsten Amrhein and Elke Löhnig M.A. from the Römerkastell Saalburg. The director of the Saalburgmuseum Prof. Dr. Egon Schallmayer had the courageous idea to host this exhibition at the Saalburg.
We owe our thanks to those who have continuously supported our work, including Manuchehr Jamali, Farangis Yegane's husband, with whom we have meanwhile developed a cooperative project evolving around arts and mythology. Also we want to thank the friendly team of the Saalburg, especially Mrs. Ursula Heimes, for her press work, and Mr. Horst Epperts for his competence with all practical issues.
Finally, we have started an own neo-mithraic project, our introductory thoughts can be read here in German.