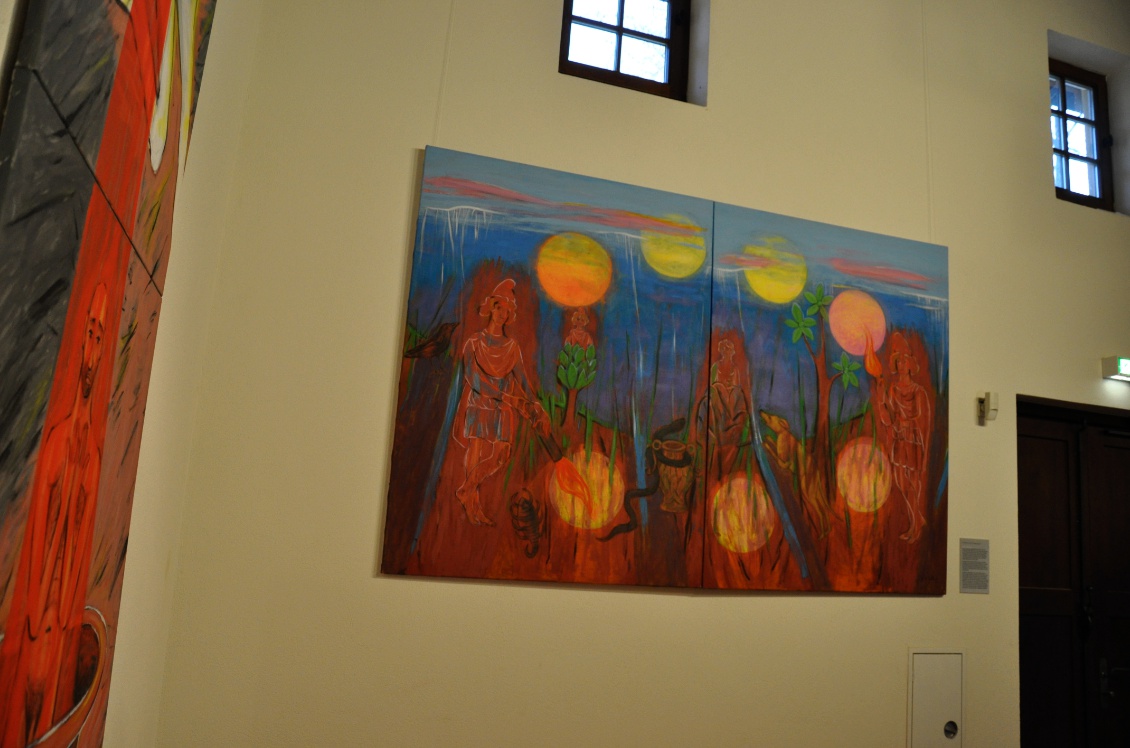 The Saalburg museum in the Taunus forest
The Saalburg museum is a special venue for those interested in mithraism. To get the info about the important Roman fort we suggest you to visit their site at https://www.saalburgmuseum.de/ and https://en.wikipedia.org/wiki/Saalburg. The Saalburg museum permanently displays the mithraic findings from the Stockstadt am Main mithraeum, and a new mithraeum built in 1897 under Kaiser Wilhelm II is part of the Saalburg presmise itself, slightly set apart in the surrounding Taunus forest.
"Mysterium Mithras"
The event has been the first time the Saalburg museum hosted a comprehensive exhibition about the Mithras cult of the former Roman provinces of Obergermanien, where the Mithras cult was widely spread amonst the Roman military ranks. Shown were representative archaeological findings from that region. Contrasting and supplementing the archaeological side were the artworks by Farangis G. Yegane, which were placed in the same hall of the museum, the newly built fabrica. Both, the items from Yegane's exhibit FOR EXAMPLE MTIRHAS PART I and PART II were on display: large acrylic paintings, installations, objects, lithographs and drawings.
The reconstruction work on the "new" mithraeum in the archaeological park of the Saalburg had been finished the same year and had given the initial reason to hold the yet long planned exhibition, where the core idea was to bring archaeology together with contemporary arts that evolves around the archaeological theme in content and aesthetics.