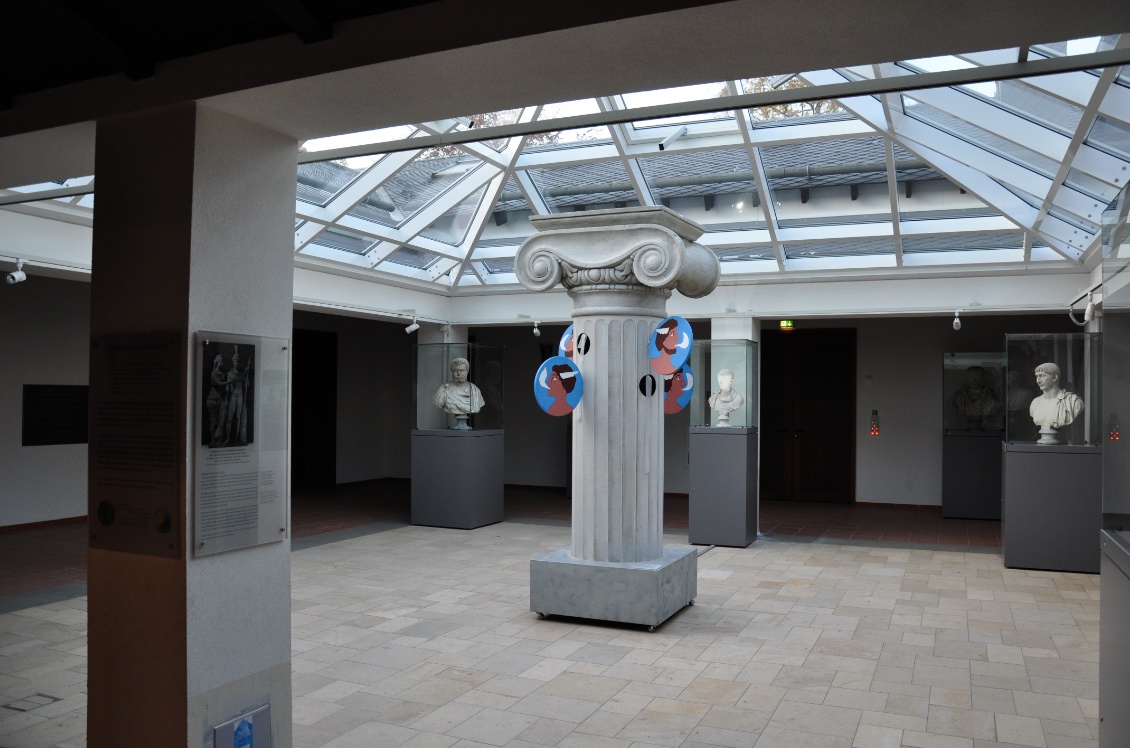 Ionic wind-column, with the four wind gods depicted blowing into the four cardinal directions. Installaion by Farangis. As the visitor comes close, a strong air starts blowing from the four sides of the column.
The items have been loaned to the exhibition by …
The archaeological items, original findings and archaeological reproductions:
Ägyptologisches Institut der Ruprecht-Karls-Universität, Heidelberg
Archäologisches Landesmuseum Baden-Württemberg, Rastatt
Archäologisches Museum Frankfurt
Badisches Landesmuseum, Karlsruhe
Generaldirektion Kulturelles Erbe Rheinland-Pfalz, Direktion Landesarchäologie, Mainz
Hessisches Landesmuseum, Darmstadt
Institut für Altertumswissenschaften, Klassische Archäologie, Justus-Liebig-Universität, Gießen
Jörg Lotter, Darmstadt
Lobdengau-Museum, Ladenburg
Museum Schloss Fechenbach, Dieburg
Prof. Dr. Manfred Clauss, Hennef/Sieg
Römisch-Germanisches Zentralmuseum, Mainz
Stadtmuseum Wiesbaden
Wetterau-Museum, Friedberg
Contemporary art:
Farangis G. Yegane
8 large paintings, mostly consisting of several parts (diptychs, triptychs), acrylic on canvas
3 three-dimensional objects of which two were installations
5 lithographs (lithograph folder)
15 drawings
The exhibition was organized by the Saalburgmuseum and Farangis.de.